About Us
Delhi Lounge is a Indian takeaway in Luton. Why don't you try our Biryani or Puree Starter?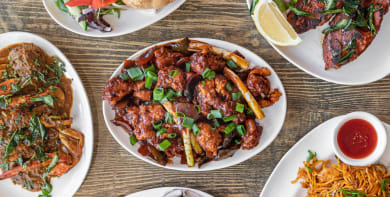 Reviews
248 reviews
cee
"5 star all the time, will never order from anywhere else ..lovely food always a pleasant delivery guy"
21/06/2020
John
"Well cooked, tasty food."
21/06/2020
Tia
"Excellent food and excellent customer service"
19/06/2020
cee
"Always delivered on time always fresh and always delivered by a nice delivery guy! My favourite indian .. their Pathia is lovely!!!!!"
15/06/2020
Menu
Bombay Aloo Garlic with Cheese
£3.95
Aloo Gobi
Potatoes & cauliflower
£3.95
Aloo Gobi Garlic with Cheese
£3.95
Bhindi Bhaji
Fresh okra cooked in medium spices
Medium
£3.95
Courgette Bhaji
Tender courgettes bremised in our chef's special recipe
£3.95
Daal Ki Palak
Lentils & spinach
£3.95
Mutter Paneer
Peas & cheese in mild sauce
Mild
£3.95
Niramish
Sweet & sour, variety of vegetables in dry sauce
£3.95
Saag Aloo
Potatoes & spinach
£3.95
Saag Paneer
Spinach & cheese
£3.95
Vantana Batata
French beans cooked with peas & potato
£3.95
Sweetcorn Bhaji
Sweetcorn cooked in a special sauce
£3.95
Tarka Daal
Lentils lightly spiced with garlic
£3.95
Curry Chicken Tikka
Medium-Hot
£7.95
Curry King Prawn
Medium-Hot
£10.95
Curry Lamb Tikka
Medium-Hot
£7.95
Curry Mixed Vegetable
Medium-Hot
£5.95
Madras Chicken
Fairly Hot
£6.95
Madras Chicken Tikka
Fairly Hot
£7.95
Madras King Prawn
Fairly Hot
£10.95
Madras Lamb Tikka
Fairly Hot
£7.95
Madras Mixed Vegetable
Fairly Hot
£5.95
Korma Chicken
Mild with coconut
Mild
£6.95
Korma Lamb
Mild with coconut
Mild
£6.95
Korma Prawn
Mild with coconut
Mild
£7.95
Korma King Prawn
Mild with coconut
Mild
£10.95
Korma Mixed Vegetable
Mild with coconut
Mild
£5.95
Bhuna Chicken
Medium with tomatoes
Medium
£6.95
Bhuna Lamb
Medium with tomatoes
Medium
£6.95
Bhuna Prawn
Medium with tomatoes
Medium
£7.95
Bhuna King Prawn
Medium with tomatoes
Medium
£10.95
Bhuna Fish
Medium with tomatoes
Medium
£9.95
Bhuna Mixed Vegetable
Medium with tomatoes
Medium
£5.95
Rogan Josh Chicken
Medium with tomatoes
Medium
£6.95
Rogan Josh Lamb
Medium with tomatoes
Medium
£6.95
Rogan Josh Prawn
Medium with tomatoes
Medium
£7.95
Rogan Josh King Prawn
Medium with tomatoes
Medium
£10.95
Rogan Josh Fish
Medium with tomatoes
Medium
£9.95
Rogan Josh Mixed Vegetable
Medium with tomatoes
Medium
£5.95
Dopiaza Chicken
Medium with onions
Medium
£6.95
Dopiaza Lamb
Medium with onions
Medium
£6.95
Dopiaza Prawn
Medium with onions
Medium
£7.95
Dopiaza King Prawn
Medium with onions
Medium
£10.95
Dopiaza Fish
Medium with onions
Medium
£9.95
Dopiaza Mixed Vegetable
Medium with onions
Medium
£5.95
Methi Chicken
Medium with fenugreek leaves
Medium
£6.95
Methi Lamb
Medium with fenugreek leaves
Medium
£6.95
Methi Prawn
Medium with fenugreek leaves
Medium
£7.95
Methi King Prawn
Medium with fenugreek leaves
Medium
£10.95
Methi Fish
Medium with fenugreek leaves
Medium
£9.95
Methi Mixed Vegetable
Medium with fenugreek leaves
Medium
£5.95
Palak Chicken
Medium with spinach
Medium
£7.95
Palak Lamb
Medium with spinach
Medium
£7.95
Palak Prawn
Medium with spinach
Medium
£8.95
Palak King Prawn
Medium with spinach
Medium
£10.95
Palak Fish
Medium with spinach
Medium
£9.95
Palak Mixed Vegetable
Medium with spinach
Medium
£5.95
Masala Chicken
With almonds & coconut in a mild & creamy sauce
Mild
£7.95
Masala Lamb
With almonds & coconut in a mild & creamy sauce
Mild
£7.95
Masala Prawn
With almonds & coconut in a mild & creamy sauce
Mild
£8.95
Masala King Prawn
With almonds & coconut in a mild & creamy sauce
Mild
£10.95
Masala Fish
With almonds & coconut in a mild & creamy sauce
Mild
£9.95
Masala Mixed Vegetable
With almonds & coconut in a mild & creamy sauce
Mild
£5.95
Pasanda Chicken
Cooked in a mild sauce with almonds sultanas, cashew nuts, coconut & cream
Mild
£7.95
Pasanda Lamb
Cooked in a mild sauce with almonds sultanas, cashew nuts, coconut & cream
Mild
£7.95
Pasanda Prawn
Cooked in a mild sauce with almonds sultanas, cashew nuts, coconut & cream
Mild
£8.95
Pasanda King Prawn
Cooked in a mild sauce with almonds sultanas, cashew nuts, coconut & cream
Mild
£10.95
Pasanda Fish
Cooked in a mild sauce with almonds sultanas, cashew nuts, coconut & cream
Mild
£9.95
Pasanda Mixed Vegetable
Cooked in a mild sauce with almonds sultanas, cashew nuts, coconut & cream
Mild
£5.95
Korai Chicken
With capsicum, onions, herbs & spices
£7.95
Korai Lamb
With capsicum, onions, herbs & spices
£7.95
Korai Prawn
With capsicum, onions, herbs & spices
£8.95
Korai King Prawn
With capsicum, onions, herbs & spices
£10.95
Korai Fish
With capsicum, onions, herbs & spices
£9.95
Korai Mixed Vegetable
With capsicum, onions, herbs & spices
£5.95
Dansak Chicken
Hot, sweet & sour with lentils
Hot
£7.95
Dansak Lamb
Hot, sweet & sour with lentils
Hot
£7.95
Dansak Prawn
Hot, sweet & sour with lentils
Hot
£8.95
Dansak King Prawn
Hot, sweet & sour with lentils
Hot
£10.95
Dansak Fish
Hot, sweet & sour with lentils
Hot
£9.95
Dansak Mixed Vegetable
Hot, sweet & sour with lentils
Hot
£5.95
Pathia Chicken
Hot, sweet & sour with in a thick sauce
Hot
£7.95
Pathia Lamb
Hot, sweet & sour with in a thick sauce
Hot
£7.95
Pathia Prawn
Hot, sweet & sour with in a thick sauce
Hot
£8.95
Pathia King Prawn
Hot, sweet & sour with in a thick sauce
Hot
£10.95
Pathia Fish
Hot, sweet & sour with in a thick sauce
Hot
£9.95
Pathia Mixed Vegetable
Hot, sweet & sour with in a thick sauce
Hot
£5.95
Butter Chicken
A dish of tikka simmered in a satin smooth tomato gravy, redolent of kasoori methi
£7.95
Butter Lamb
A dish of tikka simmered in a satin smooth tomato gravy, redolent of kasoori methi
£7.95
Butter Prawn
A dish of tikka simmered in a satin smooth tomato gravy, redolent of kasoori methi
£8.95
Butter King Prawn
A dish of tikka simmered in a satin smooth tomato gravy, redolent of kasoori methi
£10.95
Butter Fish
A dish of tikka simmered in a satin smooth tomato gravy, redolent of kasoori methi
£9.95
Butter Mixed Vegetable
A dish of tikka simmered in a satin smooth tomato gravy, redolent of kasoori methi
£5.95
Vindaloo Chicken
Very Hot
£6.95
Vindaloo King Prawn
Very Hot
£10.95
Vindaloo Mixed Vegetable
Very Hot
£5.95
Vindaloo Chicken Tikka
Very Hot
£7.95
Vindaloo Lamb Tikka
Very Hot
£7.95
Korma Chicken Tikka
Mild with coconut
Mild
£7.95
Korma Lamb Tikka
Mild with coconut
Mild
£7.95
Bhuna Chicken Tikka
Medium with tomatoes
Medium
£7.95
Bhuna Lamb Tikka
Medium with tomatoes
Medium
£7.95
Rogan Josh Chicken Tikka
Medium with tomatoes
Medium
£7.95
Rogan Josh Lamb Tikka
Medium with tomatoes
Medium
£7.95
Dopiaza Chicken Tikka
Medium with onions
Medium
£7.95
Dopiaza Lamb Tikka
Medium with onions
Medium
£7.95
Methi Chicken Tikka
Medium with fenugreek leaves
Medium
£7.95
Methi Lamb Tikka
Medium with fenugreek leaves
Medium
£7.95
Palak Chicken Tikka
Medium with spinach
Medium
£8.95
Palak Lamb Tikka
Medium with spinach
Medium
£8.95
Masala Chicken Tikka
With almonds & coconut in a mild & creamy sauce
Mild
£8.95
Masala Lamb Tikka
With almonds & coconut in a mild & creamy sauce
Mild
£8.95
Pasanda Chicken Tikka
Cooked in a mild sauce with almonds sultanas, cashew nuts, coconut & cream
Mild
£8.95
Pasanda Lamb Tikka
Cooked in a mild sauce with almonds sultanas, cashew nuts, coconut & cream
Mild
£8.95
Korai Chicken Tikka
With capsicum, onions, herbs & spices
£8.95
Korai Lamb Tikka
With capsicum, onions, herbs & spices
£8.95
Dansak Chicken Tikka
Hot, sweet & sour with lentils
Hot
£8.95
Dansak Lamb Tikka
Hot, sweet & sour with lentils
Hot
£8.95
Pathia Chicken Tikka
Hot, sweet & sour with in a thick sauce
Hot
£8.95
Pathia Lamb Tikka
Hot, sweet & sour with in a thick sauce
Hot
£8.95
Butter Chicken Tikka
A dish of tikka simmered in a satin smooth tomato gravy, redolent of kasoori methi
£8.95
Butter Lamb Tikka
A dish of tikka simmered in a satin smooth tomato gravy, redolent of kasoori methi
£8.95
Ajwani Curry Chicken
Traditional festive dish an usual blend of chillies & carom seed served in a tomato gravy
£7.95
Ajwani Curry Lamb
Traditional festive dish an usual blend of chillies & carom seed served in a tomato gravy
£7.95
Bahar Chicken Silsila
Chef's special recipe, medium spicy chicken, cooked with onion green pepper, tomatoes, highly flavoured with tangy taste
Medium
£7.95
Chicken Jaipuri
Cooked with a tangy flavoured sauce with fresh herbs & spiced
£7.95
Chicken Rezala
Tandoori chicken off the bone with minced meat, capsicum, onions, tomatoes & green chillies
£8.95
Chicken Shahzani
Barbecued, fried with onions, green peppers & mild sauce
Mild
£8.50
Chicken Shalimar
Grilled chicken cooked in sauce of medium spice garnished with spiced mushrooms on top
£8.95
Chicken Tikka Bahar
Cooked with spinach & special sauce
£7.95
Delhi House Special
Chicken tikka, meat tikka with onion, green pepper & tomato
£8.95
Delhi Lounge Tandoori Masala
Mild creamy sauce mixed with chicken, lamb & shish kebab
Mild
£8.95
Dosha Chicken
Cooked with special spices with mango flavouring
£7.95
Dosha Lamb
Cooked with special spices with mango flavouring
£7.95
Chilli Masala Chicken
Fairly hot cooked in green chilli
Fairly Hot
£7.95
Chilli Masala Lamb
Fairly hot cooked in green chilli
Fairly Hot
£7.95
Garlic Chicken
Cooked with fresh garlic & stir fried with green peppers, spring onions & seasoned with herbs
£7.95
Garlic Meat
Cooked with fresh garlic & stir fried with green peppers, spring onions & seasoned with herbs
£7.95
Garlic Bakra Tikka Chicken
Cooked with extra garlic & olive oil
£7.95
Garlic Bakra Tikka Lamb
Cooked with extra garlic & olive oil
£7.95
Garlic Chicken Chilli Masala
Cooked with garlic & chillies
£8.95
Garlic Fish
Pangash fish cooked with fresh garlic & stir fried with green peppers, spring onions & seasoned with herbs
£10.95
Goan Green Chicken Curry
Chicken cooked in a tangy sauce made from puree of green herbs tropical lime
£7.95
Kata Masala Chicken
Fresh ginger cooked with chicken OR lamb in our chef's special sauce
£7.95
Kata Masala Lamb
Fresh ginger cooked with chicken OR lamb in our chef's special sauce
£7.95
Jalfrezi Chicken
Cooked with sliced green chilli, green peppers with sauce with fresh herbs & spices
£7.95
Jalfrezi Lamb
Cooked with sliced green chilli, green peppers with sauce with fresh herbs & spices
£7.95
Lamb Shanks
Lamb shanks cooked in a Marathi style, flavoured with peanut, red chillies, garlic & lime
£11.95
Lazawab Chicken
Cooked with spinach with cheese & spice, sweet sour flavour
£7.95
Lazawab Lamb
Cooked with spinach with cheese & spice, sweet sour flavour
£7.95
Majhan Masala Tikka Chicken
Chicken OR lamb tikka cooked in a spicy tomato & onion sauce
£7.95
Majhan Masala Tikka Lamb
Chicken OR lamb tikka cooked in a spicy tomato & onion sauce
£7.95
Lagan Chicken
Cooked with mint & fresh herbs selected spices for a sweet tangy taste
£7.95
Lagan Lamb
Cooked with mint & fresh herbs selected spices for a sweet tangy taste
£7.95
Naga Chicken
Hot pepper from Bangladesh spring onion garlic & herbs fairly hot sauce
Fairly Hot
£7.95
Naga Lamb
Hot pepper from Bangladesh spring onion garlic & herbs fairly hot sauce
Fairly Hot
£7.95
Peri Peri Chicken
Tender chicken OR spring lamb cubes with garlic, light soya & a peri peri sauce with dry red chillies sun dried tomatoes
£7.95
Peri Peri Lamb
Tender chicken OR spring lamb cubes with garlic, light soya & a peri peri sauce with dry red chillies sun dried tomatoes
£7.95
Rajasthani Murgh
A whole fillet of corn fed chicken tikka breast stuffed with garlic & bangla spices, served sliced in three pieces on a red Rajasthani sauce in sizzler
£8.95
Rup Chanda
Shallow fried pomfret, a typical west Bengali fish with onion pepper cooked with medium bhuna sauce
Medium
£10.95
Shatkora Chicken
A traditional Bangladesh citrus fruit used in cooking from the Sylhet region of Bangladesh
£7.95
Shatkora Lamb
A traditional Bangladesh citrus fruit used in cooking from the Sylhet region of Bangladesh
£7.95
Sizzling Murgh
Spring chicken breast lightly spiced & grilled
Served with stir fried mixed peppers, shallots, sweetcorn & French beans
£7.95
Sri Lankan Slow Cooked Lamb
Lamb with spinach & chickpeas
£7.95
Tandoori Chicken Bhuna (On The Bone)
On the bone tandoori
£8.95
Tandoori King Prawn Jalfrezi
Tandoori king prawn cooked with onions, tomatoes, peppers & green chillies
£12.95
Tandoori King Prawn Masala
Tandoori king prawn cooked with almonds & coconut in a mild & creamy sauce
Mild
£12.95
Tandoori King Prawn Shashlik with Naan
£12.95
Tandoori Mixed Grill
Served with naan
£11.95
Tandoori King Prawn Main
Served with naan
£12.95
Paneer Tikka Shashlik
Vegetarian Tandoori
£7.95
Mixed Vegetable Paneer Shashlik
Vegetarian Tandoori
£8.95
Aaasam King Prawn Shashlik with Naan
£13.95
Aasam King Prawn with Naan
£13.95
Mushroom Omelette & Chips
£5.95
Cheese & Tomato Omelette & Chips
£5.95
Meat Platter For Two
Meat samosa, lamb tikka, chicken tikka, seekh kebab
£8.95
Aromatic Duck
Tender pieces of duck marinated with fresh mint, coriander & yoghurt sauce
£5.95
Adraki Lamb Chop
Tender pieces of spring lamb chop, marinated over night cooked in clay oven
£5.95
Mixed Kebab
Tender pieces of spring chicken, spring lamb & seekh kebab
£5.95
Rajasthani Chicken Starter
£3.95
Samosa Chicken
2 Per portion
£3.95
Samosa Meat
2 Per portion
£3.95
Samosa Vegetable
2 Per portion
£3.95
Tandoori King Prawns Starter
£5.95
Spice of Delhi Special Balti
£8.95
Mixed Vegetable Paneer Balti
£7.25
Cheese Garlic Coriander Chilli Naan
£3.50
House Special Naan
Chopped chicken tikka & cheese with coriander
£3.50
Special Fried Rice
Fried egg, peas & onions
£3.95
Keema Rice
Spiced minced meat in basmati rice
£3.95
Kashmiri Rice
Nuts & almonds
£3.95
Contact Us
Find Us
14 Sundon Park Parade, Luton, LU33BH
We deliver to
LU3, LU4, LU5