About Us
Delhi Lounge is a Indian takeaway in Luton. Why don't you try our Biryani or Puree Starter?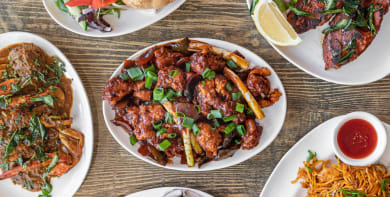 Reviews
325 reviews
Geraldine
"Really great tasting food good portion size and quick delivery"
09/01/2021
Rozeena
"Food was delicious, would definitely order again :)"
05/01/2021
Stephen
"Very nice. Thankyou."
02/01/2021
Sallie
"Fantastic food and excellent service yet again. Thank you so very much..."
02/01/2021
Menu
Bombay Aloo Garlic with Cheese
£3.95
Aloo Gobi
Potatoes & cauliflower
£3.95
Aloo Gobi Garlic with Cheese
£3.95
Bhindi Bhaji
Fresh okra cooked in medium spices
Medium
£3.95
Courgette Bhaji
Tender courgettes bremised in our chef's special recipe
£3.95
Daal Ki Palak
Lentils & spinach
£3.95
Mutter Paneer
Peas & cheese in mild sauce
Mild
£3.95
Niramish
Sweet & sour, variety of vegetables in dry sauce
£3.95
Saag Aloo
Potatoes & spinach
£3.95
Saag Paneer
Spinach & cheese
£3.95
Vantana Batata
French beans cooked with peas & potato
£3.95
Sweetcorn Bhaji
Sweetcorn cooked in a special sauce
£3.95
Tarka Daal
Lentils lightly spiced with garlic
£3.95
Curry Chicken Tikka
Medium-Hot
£7.95
Curry King Prawn
Medium-Hot
£10.95
Curry Lamb Tikka
Medium-Hot
£7.95
Curry Mixed Vegetable
Medium-Hot
£5.95
Madras Chicken
Fairly Hot
£6.95
Madras Chicken Tikka
Fairly Hot
£7.95
Madras King Prawn
Fairly Hot
£10.95
Madras Lamb Tikka
Fairly Hot
£7.95
Madras Mixed Vegetable
Fairly Hot
£5.95
Korma Chicken
Mild with coconut
Mild
£6.95
Korma Lamb
Mild with coconut
Mild
£6.95
Korma Prawn
Mild with coconut
Mild
£7.95
Korma King Prawn
Mild with coconut
Mild
£10.95
Korma Mixed Vegetable
Mild with coconut
Mild
£5.95
Bhuna Chicken
Medium with tomatoes
Medium
£6.95
Bhuna Lamb
Medium with tomatoes
Medium
£6.95
Bhuna Prawn
Medium with tomatoes
Medium
£7.95
Bhuna King Prawn
Medium with tomatoes
Medium
£10.95
Bhuna Fish
Medium with tomatoes
Medium
£9.95
Bhuna Mixed Vegetable
Medium with tomatoes
Medium
£5.95
Rogan Josh Chicken
Medium with tomatoes
Medium
£6.95
Rogan Josh Lamb
Medium with tomatoes
Medium
£6.95
Rogan Josh Prawn
Medium with tomatoes
Medium
£7.95
Rogan Josh King Prawn
Medium with tomatoes
Medium
£10.95
Rogan Josh Fish
Medium with tomatoes
Medium
£9.95
Rogan Josh Mixed Vegetable
Medium with tomatoes
Medium
£5.95
Dopiaza Chicken
Medium with onions
Medium
£6.95
Dopiaza Lamb
Medium with onions
Medium
£6.95
Dopiaza Prawn
Medium with onions
Medium
£7.95
Dopiaza King Prawn
Medium with onions
Medium
£10.95
Dopiaza Fish
Medium with onions
Medium
£9.95
Dopiaza Mixed Vegetable
Medium with onions
Medium
£5.95
Methi Chicken
Medium with fenugreek leaves
Medium
£6.95
Methi Lamb
Medium with fenugreek leaves
Medium
£6.95
Methi Prawn
Medium with fenugreek leaves
Medium
£7.95
Methi King Prawn
Medium with fenugreek leaves
Medium
£10.95
Methi Fish
Medium with fenugreek leaves
Medium
£9.95
Methi Mixed Vegetable
Medium with fenugreek leaves
Medium
£5.95
Palak Chicken
Medium with spinach
Medium
£7.95
Palak Lamb
Medium with spinach
Medium
£7.95
Palak Prawn
Medium with spinach
Medium
£8.95
Palak King Prawn
Medium with spinach
Medium
£10.95
Palak Fish
Medium with spinach
Medium
£9.95
Palak Mixed Vegetable
Medium with spinach
Medium
£5.95
Masala Chicken
With almonds & coconut in a mild & creamy sauce
Mild
£7.95
Masala Lamb
With almonds & coconut in a mild & creamy sauce
Mild
£7.95
Masala Prawn
With almonds & coconut in a mild & creamy sauce
Mild
£8.95
Masala King Prawn
With almonds & coconut in a mild & creamy sauce
Mild
£10.95
Masala Fish
With almonds & coconut in a mild & creamy sauce
Mild
£9.95
Masala Mixed Vegetable
With almonds & coconut in a mild & creamy sauce
Mild
£5.95
Pasanda Chicken
Cooked in a mild sauce with almonds sultanas, cashew nuts, coconut & cream
Mild
£7.95
Pasanda Lamb
Cooked in a mild sauce with almonds sultanas, cashew nuts, coconut & cream
Mild
£7.95
Pasanda Prawn
Cooked in a mild sauce with almonds sultanas, cashew nuts, coconut & cream
Mild
£8.95
Pasanda King Prawn
Cooked in a mild sauce with almonds sultanas, cashew nuts, coconut & cream
Mild
£10.95
Pasanda Fish
Cooked in a mild sauce with almonds sultanas, cashew nuts, coconut & cream
Mild
£9.95
Pasanda Mixed Vegetable
Cooked in a mild sauce with almonds sultanas, cashew nuts, coconut & cream
Mild
£5.95
Korai Chicken
With capsicum, onions, herbs & spices
£7.95
Korai Lamb
With capsicum, onions, herbs & spices
£7.95
Korai Prawn
With capsicum, onions, herbs & spices
£8.95
Korai King Prawn
With capsicum, onions, herbs & spices
£10.95
Korai Fish
With capsicum, onions, herbs & spices
£9.95
Korai Mixed Vegetable
With capsicum, onions, herbs & spices
£5.95
Dansak Chicken
Hot, sweet & sour with lentils
Hot
£7.95
Dansak Lamb
Hot, sweet & sour with lentils
Hot
£7.95
Dansak Prawn
Hot, sweet & sour with lentils
Hot
£8.95
Dansak King Prawn
Hot, sweet & sour with lentils
Hot
£10.95
Dansak Fish
Hot, sweet & sour with lentils
Hot
£9.95
Dansak Mixed Vegetable
Hot, sweet & sour with lentils
Hot
£5.95
Pathia Chicken
Hot, sweet & sour with in a thick sauce
Hot
£7.95
Pathia Lamb
Hot, sweet & sour with in a thick sauce
Hot
£7.95
Pathia Prawn
Hot, sweet & sour with in a thick sauce
Hot
£8.95
Pathia King Prawn
Hot, sweet & sour with in a thick sauce
Hot
£10.95
Pathia Fish
Hot, sweet & sour with in a thick sauce
Hot
£9.95
Pathia Mixed Vegetable
Hot, sweet & sour with in a thick sauce
Hot
£5.95
Butter Chicken
A dish of tikka simmered in a satin smooth tomato gravy, redolent of kasoori methi
£7.95
Butter Lamb
A dish of tikka simmered in a satin smooth tomato gravy, redolent of kasoori methi
£7.95
Butter Prawn
A dish of tikka simmered in a satin smooth tomato gravy, redolent of kasoori methi
£8.95
Butter King Prawn
A dish of tikka simmered in a satin smooth tomato gravy, redolent of kasoori methi
£10.95
Butter Fish
A dish of tikka simmered in a satin smooth tomato gravy, redolent of kasoori methi
£9.95
Butter Mixed Vegetable
A dish of tikka simmered in a satin smooth tomato gravy, redolent of kasoori methi
£5.95
Vindaloo Chicken
Very Hot
£6.95
Vindaloo King Prawn
Very Hot
£10.95
Vindaloo Mixed Vegetable
Very Hot
£5.95
Vindaloo Chicken Tikka
Very Hot
£7.95
Vindaloo Lamb Tikka
Very Hot
£7.95
Korma Chicken Tikka
Mild with coconut
Mild
£7.95
Korma Lamb Tikka
Mild with coconut
Mild
£7.95
Bhuna Chicken Tikka
Medium with tomatoes
Medium
£7.95
Bhuna Lamb Tikka
Medium with tomatoes
Medium
£7.95
Rogan Josh Chicken Tikka
Medium with tomatoes
Medium
£7.95
Rogan Josh Lamb Tikka
Medium with tomatoes
Medium
£7.95
Dopiaza Chicken Tikka
Medium with onions
Medium
£7.95
Dopiaza Lamb Tikka
Medium with onions
Medium
£7.95
Methi Chicken Tikka
Medium with fenugreek leaves
Medium
£7.95
Methi Lamb Tikka
Medium with fenugreek leaves
Medium
£7.95
Palak Chicken Tikka
Medium with spinach
Medium
£8.95
Palak Lamb Tikka
Medium with spinach
Medium
£8.95
Masala Chicken Tikka
With almonds & coconut in a mild & creamy sauce
Mild
£8.95
Masala Lamb Tikka
With almonds & coconut in a mild & creamy sauce
Mild
£8.95
Pasanda Chicken Tikka
Cooked in a mild sauce with almonds sultanas, cashew nuts, coconut & cream
Mild
£8.95
Pasanda Lamb Tikka
Cooked in a mild sauce with almonds sultanas, cashew nuts, coconut & cream
Mild
£8.95
Korai Chicken Tikka
With capsicum, onions, herbs & spices
£8.95
Korai Lamb Tikka
With capsicum, onions, herbs & spices
£8.95
Dansak Chicken Tikka
Hot, sweet & sour with lentils
Hot
£8.95
Dansak Lamb Tikka
Hot, sweet & sour with lentils
Hot
£8.95
Pathia Chicken Tikka
Hot, sweet & sour with in a thick sauce
Hot
£8.95
Pathia Lamb Tikka
Hot, sweet & sour with in a thick sauce
Hot
£8.95
Butter Chicken Tikka
A dish of tikka simmered in a satin smooth tomato gravy, redolent of kasoori methi
£8.95
Butter Lamb Tikka
A dish of tikka simmered in a satin smooth tomato gravy, redolent of kasoori methi
£8.95
Ajwani Curry Chicken
Traditional festive dish an usual blend of chillies & carom seed served in a tomato gravy
£7.95
Ajwani Curry Lamb
Traditional festive dish an usual blend of chillies & carom seed served in a tomato gravy
£7.95
Bahar Chicken Silsila
Chef's special recipe, medium spicy chicken, cooked with onion green pepper, tomatoes, highly flavoured with tangy taste
Medium
£7.95
Chicken Jaipuri
Cooked with a tangy flavoured sauce with fresh herbs & spiced
£7.95
Chicken Rezala
Tandoori chicken off the bone with minced meat, capsicum, onions, tomatoes & green chillies
£8.95
Chicken Shahzani
Barbecued, fried with onions, green peppers & mild sauce
Mild
£8.50
Chicken Shalimar
Grilled chicken cooked in sauce of medium spice garnished with spiced mushrooms on top
£8.95
Chicken Tikka Bahar
Cooked with spinach & special sauce
£7.95
Delhi House Special
Chicken tikka, meat tikka with onion, green pepper & tomato
£8.95
Delhi Lounge Tandoori Masala
Mild creamy sauce mixed with chicken, lamb & shish kebab
Mild
£8.95
Dosha Chicken
Cooked with special spices with mango flavouring
£7.95
Dosha Lamb
Cooked with special spices with mango flavouring
£7.95
Chilli Masala Chicken
Fairly hot cooked in green chilli
Fairly Hot
£7.95
Chilli Masala Lamb
Fairly hot cooked in green chilli
Fairly Hot
£7.95
Garlic Chicken
Cooked with fresh garlic & stir fried with green peppers, spring onions & seasoned with herbs
£7.95
Garlic Meat
Cooked with fresh garlic & stir fried with green peppers, spring onions & seasoned with herbs
£7.95
Garlic Bakra Tikka Chicken
Cooked with extra garlic & olive oil
£7.95
Garlic Bakra Tikka Lamb
Cooked with extra garlic & olive oil
£7.95
Garlic Chicken Chilli Masala
Cooked with garlic & chillies
£8.95
Garlic Fish
Pangash fish cooked with fresh garlic & stir fried with green peppers, spring onions & seasoned with herbs
£10.95
Goan Green Chicken Curry
Chicken cooked in a tangy sauce made from puree of green herbs tropical lime
£7.95
Kata Masala Chicken
Fresh ginger cooked with chicken OR lamb in our chef's special sauce
£7.95
Kata Masala Lamb
Fresh ginger cooked with chicken OR lamb in our chef's special sauce
£7.95
Jalfrezi Chicken
Cooked with sliced green chilli, green peppers with sauce with fresh herbs & spices
£7.95
Jalfrezi Lamb
Cooked with sliced green chilli, green peppers with sauce with fresh herbs & spices
£7.95
Lamb Shanks
Lamb shanks cooked in a Marathi style, flavoured with peanut, red chillies, garlic & lime
£11.95
Lazawab Chicken
Cooked with spinach with cheese & spice, sweet sour flavour
£7.95
Lazawab Lamb
Cooked with spinach with cheese & spice, sweet sour flavour
£7.95
Majhan Masala Tikka Chicken
Chicken OR lamb tikka cooked in a spicy tomato & onion sauce
£7.95
Majhan Masala Tikka Lamb
Chicken OR lamb tikka cooked in a spicy tomato & onion sauce
£7.95
Lagan Chicken
Cooked with mint & fresh herbs selected spices for a sweet tangy taste
£7.95
Lagan Lamb
Cooked with mint & fresh herbs selected spices for a sweet tangy taste
£7.95
Naga Chicken
Hot pepper from Bangladesh spring onion garlic & herbs fairly hot sauce
Fairly Hot
£7.95
Naga Lamb
Hot pepper from Bangladesh spring onion garlic & herbs fairly hot sauce
Fairly Hot
£7.95
Peri Peri Chicken
Tender chicken OR spring lamb cubes with garlic, light soya & a peri peri sauce with dry red chillies sun dried tomatoes
£7.95
Peri Peri Lamb
Tender chicken OR spring lamb cubes with garlic, light soya & a peri peri sauce with dry red chillies sun dried tomatoes
£7.95
Rajasthani Murgh
A whole fillet of corn fed chicken tikka breast stuffed with garlic & bangla spices, served sliced in three pieces on a red Rajasthani sauce in sizzler
£8.95
Rup Chanda
Shallow fried pomfret, a typical west Bengali fish with onion pepper cooked with medium bhuna sauce
Medium
£10.95
Shatkora Chicken
A traditional Bangladesh citrus fruit used in cooking from the Sylhet region of Bangladesh
£7.95
Shatkora Lamb
A traditional Bangladesh citrus fruit used in cooking from the Sylhet region of Bangladesh
£7.95
Sizzling Murgh
Spring chicken breast lightly spiced & grilled
Served with stir fried mixed peppers, shallots, sweetcorn & French beans
£7.95
Sri Lankan Slow Cooked Lamb
Lamb with spinach & chickpeas
£7.95
Tandoori Chicken Bhuna (On The Bone)
On the bone tandoori
£8.95
Tandoori King Prawn Jalfrezi
Tandoori king prawn cooked with onions, tomatoes, peppers & green chillies
£12.95
Tandoori King Prawn Masala
Tandoori king prawn cooked with almonds & coconut in a mild & creamy sauce
Mild
£12.95
Tandoori King Prawn Shashlik with Naan
£12.95
Tandoori Mixed Grill
Served with naan
£11.95
Tandoori King Prawn Main
Served with naan
£12.95
Paneer Tikka Shashlik
Vegetarian Tandoori
£7.95
Mixed Vegetable Paneer Shashlik
Vegetarian Tandoori
£8.95
Aaasam King Prawn Shashlik with Naan
£13.95
Aasam King Prawn with Naan
£13.95
Mushroom Omelette & Chips
£5.95
Cheese & Tomato Omelette & Chips
£5.95
Meat Platter For Two
Meat samosa, lamb tikka, chicken tikka, seekh kebab
£8.95
Aromatic Duck
Tender pieces of duck marinated with fresh mint, coriander & yoghurt sauce
£5.95
Adraki Lamb Chop
Tender pieces of spring lamb chop, marinated over night cooked in clay oven
£5.95
Mixed Kebab
Tender pieces of spring chicken, spring lamb & seekh kebab
£5.95
Rajasthani Chicken Starter
£3.95
Samosa Chicken
2 Per portion
£3.95
Samosa Meat
2 Per portion
£3.95
Samosa Vegetable
2 Per portion
£3.95
Tandoori King Prawns Starter
£5.95
Spice of Delhi Special Balti
£8.95
Mixed Vegetable Paneer Balti
£7.25
Cheese Garlic Coriander Chilli Naan
£3.50
House Special Naan
Chopped chicken tikka & cheese with coriander
£3.50
Special Fried Rice
Fried egg, peas & onions
£3.95
Keema Rice
Spiced minced meat in basmati rice
£3.95
Kashmiri Rice
Nuts & almonds
£3.95
Contact Us
Find Us
14 Sundon Park Parade, Luton, LU33BH
We deliver to
LU3, LU4, LU5